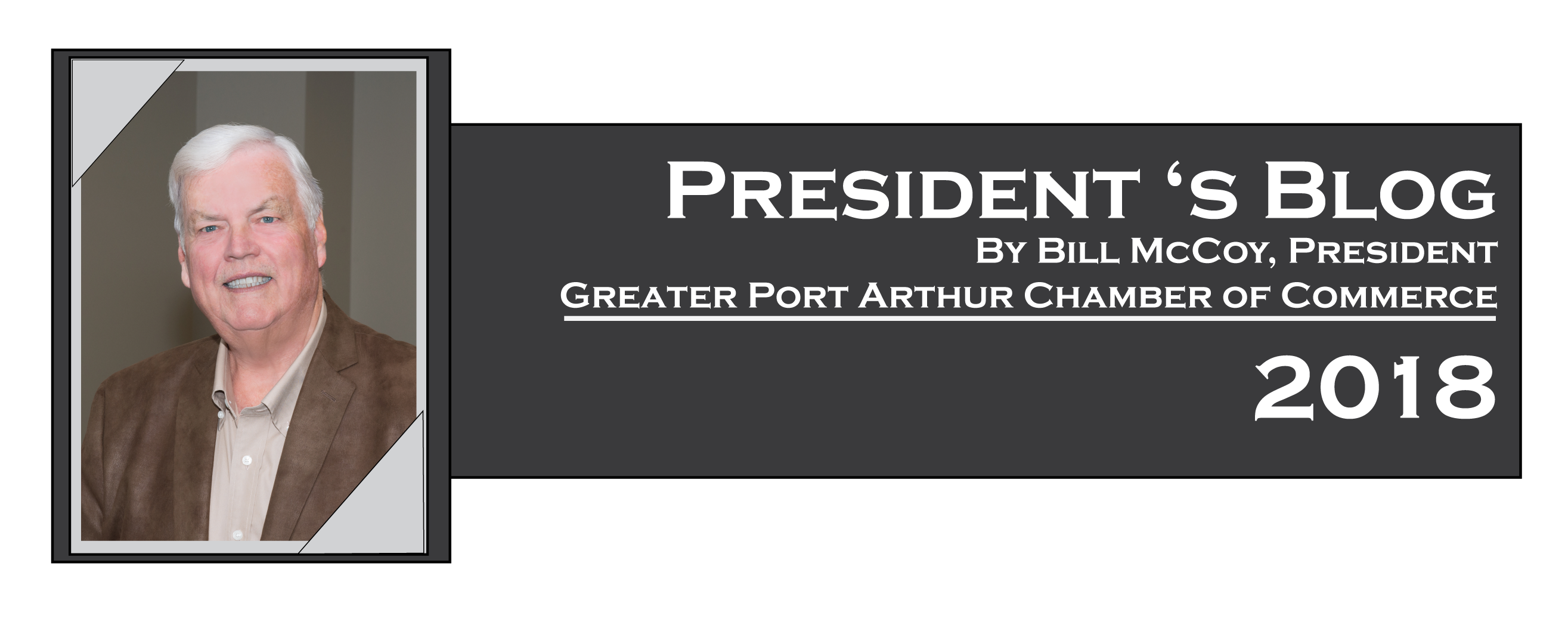 This time last year we were all digging out from Harvey. A record rainfall had put water in about 80 percent of the structures in Port Arthur and much of the surrounding area. When the chamber staff was finally able to return to work we set about preparing to assist those members that needed help. As it turns out, only about 6 to 10 members asked for our assistance. Volunteers flooded into the area, helping to rebuild. Those with insurance rounded up contractors to begin repairs. FEMA began the long process of helping those without insurance but, a lack of contractors and materials has slowed the process.
The Golden Triangle was not alone in its struggles. The gulf coast, from Corpus Christi to Lake Charles, was flooded. Rockport was almost removed from the map. City services in all cities suffered but Port Arthur was hurting because many of our city vehicles were flooded. Replacing these specialty vehicles takes a long time and is very expensive.
A year later many of our storm drains and ditches remain clogged with debris and silt. The city is addressing these issues as manpower and money becomes available.
As with all disasters there are those pointing fingers and trying to blame someone. The blame game is easy. It is usually from people that think the government can protect them from everything.
The chamber is continuing to offer any assistance, within their resources, to any business. We do not take tax money, so we must rely on our business members for funding. Our biggest assets are our members. Gradually our city is being repaired and, as we look back on August 29th, 2017 the spirit of Port Arthur survived and is moving forward and the Greater Port Arthur Chamber of Commerce will continue to look to the future.
As the end of 2018 draws nearer, the chamber begins to concentrate on electing new directors and appointing new officers for 2019 – 2021. The officers for 2019 shall be, Chairperson Elizabeth Cravens - MidAmerica Contractors, Chairperson Elect, Ron Fletcher - Entergy, Vice Chairperson - Ron Arceneaux - Arceneaux, Wilson and Cole Architects, Treasurer, Stuart Salter – Salter Insurance, Members at large Randy Sonnier - Total, Art Thomas - Texas Gas Service and Immediate Past Chairperson, Jeff Hayes - Hayes Real Estate. These seven will comprise the 2019 Executive Committee. The chamber will also have 21 board members.
The chamber is planning a new event, targeting area contractors. The SETX Industry Show will be held in the Robert A. "Bob" Bowers Civic Center on September 18, 2018, 4 pm – 6 pm. The purpose of the industry show is to allow area contractors to meet industrial clients to discuss upcoming projects and gather all information required to become eligible to receive request for bid packets. The event is free, but reservations are required. You may register by going on-line at www.portarthurtexas.com.
The board will participate in a half day planning retreat in October for the purpose of finalizing the budget, planning the next year's events and board training.
The 119th annual banquet will be in January 2019 at the Robert A. "Bob" Bowers Civic Center. This fund-raising event for the chamber will also see the awarding of the Ambassador of the Year, Business of the Year, Retiring Directors and the Arthur E. Stilwell Award. Although new directors take office, per the by-laws, on January 1, 2019, they will be recognized at this event. The exact date and speaker are yet to be determined but incoming chairperson, Elizabeth Cravens promises it will be entertaining.
On February 11 – 12, 2019, Golden Triangle Days will be held in Austin. Rooms may still be available at the Driskel or Intercontinental SFA, but you had better call now because they were filling up fast. You may go to the chamber website at www.portarthurtexas.com and register online. All events will take place on Tuesday the 12th. There will be no reception on Monday night. Tuesday will begin with a breakfast, followed by legislative sessions and end with the party that evening. If you don't need a hotel you are required to register for the event. Our legislative committee and transportation committee has already begin meeting to map out which issues needing our attention. Since Golden Triangle Days in Austin is a collaborative effort we will work with Beaumont and Orange chambers to find common ground. It appears TWIA and school finance will be on the agenda once again. We will also be looking at highway funding in an effort to get some of our highway projects funded.
In 2019, The Greater Port Arthur Chamber of Commerce will continue to focus on economic development through its education foundation, transportation committee and legislative committee. If you wish to be part of a Five Star accredited chamber and make a difference in your community, or make a difference in your business, call Paige Snyder at 409 963-1107 – Extension 3.