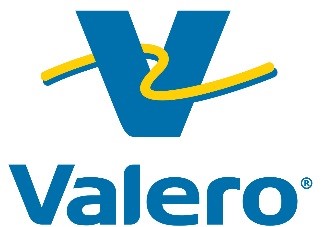 FOR IMMEDIATE RELEASE
CONTACT: Barbara Phillips
409-985-1461
VALERO RECOGNIZED BY THE CIVIC 50 FOR A SIXTH TIME AS ONE OF THE MOST COMMUNITY-MINDED COMPANIES IN THE U.S.
Once Again Named Top Energy Company on the List
PORT ARTHUR, Texas, June 19 , 2019 — For a sixth consecutive time, Valero Energy Corporation has been named to The Civic 50, a list of the 50 most community-minded companies in the United States by Points of Light, the world's largest organization dedicated to volunteer service.
Valero also was recognized again as the top energy-sector company on the list. The Civic 50 provides a national standard for superior corporate citizenship and showcases how companies can use their time, skills and other resources to improve the communities where they do business.
The Civic 50 winners were announced at the Points of Light Conference in St. Paul, Minnesota, where corporate citizenship leaders from across the country gathered to discuss social innovation, civic engagement and cross-sector collaboration.
"We are proud once again to be recognized on this prestigious list of the top companies in the U.S. for community engagement, and especially as the leader in our industry," said Joe Gorder, Valero Chairman, President and Chief Executive Officer.
In 2018, Valero employees companywide logged more than 150,000 volunteer hours for hundreds of community projects, representing an estimated $3.6 million in saved out-of-pocket labor costs for nonprofit organizations. Valero, its employees and charitable organizations also generated more than $55.6 million for worthy charities, through direct donations or fundraising, worldwide.
Employees of the Valero Port Arthur Refinery logged more than 12,675 volunteer hours in 2018. In addition, employees pledged more than $775,000 to the local United Way for 2019, with additional donations and a company match projected to bring total plant contributions to approximately $1,214,270. The facility distributed $600,000 in 2018 to 23 area children's charities from the Valero Texas Open and Benefit for Children.
"We are very proud of our employees as they continue to give of themselves in helping others in our community through their outstanding volunteer efforts and generous financial contributions," said Mark Skobel, Vice-President and General Manager of Valero Port Arthur Refinery."

The Civic 50 honorees are public and private companies with U.S. operations and revenues of $1 billion or more. They are chosen based on four dimensions of their U.S. engagement programs: investment, integration, institutionalization and impact.

"The Civic 50 truly highlights the commitment of community and civic engagement of America's leading brands," said Natalye Paquin, president and CEO, Points of Light. "The business community plays an important role in creating and delivering innovative solutions that drive social good in the communities where they live and work."
About Valero
Valero Energy Corporation, through its subsidiaries (collectively, "Valero"), is an international manufacturer and marketer of transportation fuels and petrochemical products. Valero is a Fortune 50 company based in San Antonio, Texas, and it operates 15 petroleum refineries with a combined throughput capacity of approximately 3.1 million barrels per day and 14 ethanol plants with a combined production capacity of 1.73 billion gallons per year. The petroleum refineries are located in the United States, Canada and the United Kingdom, and the ethanol plants are located in the Mid-Continent region of the U.S. Valero also is a joint venture partner in Diamond Green Diesel, which operates a renewable diesel plant in Norco, Louisiana. Diamond Green Diesel is North America's largest biomass-based diesel plant. Valero sells its products in the wholesale rack or bulk markets in the U.S., Canada, the U.K., Ireland and Latin America. Approximately 7,000 outlets carry Valero's brand names. Please visit www.valero.com for more information.


###