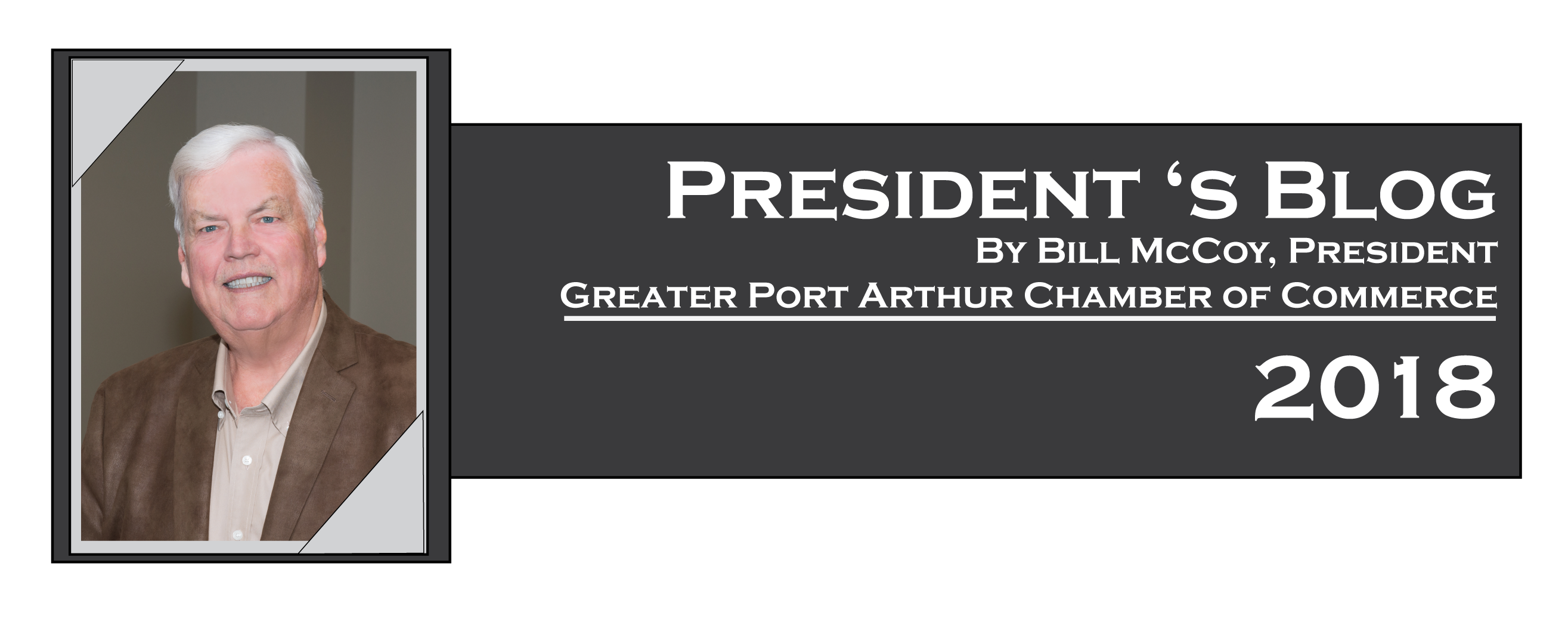 The chamber's year officially begins on January 1. It is this day that new officers take office and begin their programs. The unofficial end of the year is the annual Banquet. The 118th Annual Banquet of the Greater Port Arthur Chamber of Commerce was January 24 of 2018. The challenge was finding a venue large enough to handle the crowd. In Port Arthur there are only two such locations, the Bob Bowers Civic Center and the Carl Parker Center at Lamar Port Arthur. Harvey eliminated the Bob Bowers Civic Center, so the choice was obvious. The next challenge was finding a speaker for our event. Our chairman for 2018, Jeff Hayes, turned to Verna Rutherford, at Motiva, to invite their President/CEO Dan Romasko to be the speaker He, graciously, accepted and we had an event. On the Monday, before the Wednesday banquet, Verna Rutherford called me and informed me that Motiva had a new President/CEO and his name was Brian Coffman. The good news was he agreed to speak at our event. The banquet proved to be one of the largest in the last 6 years with approximately 600 people attending.
Marian Ruiz, 2017 Chairperson of the Board, wrapped up her year by giving an outline of the accomplishments for 2017, thanking her directors, committee chairpersons and handing out awards for Ambassador of the Year and Business of the Year. She introduced Jeff Hayes as Chairperson for 2018. Jeff outlined his goals for 2018, introduced the new directors, presented Paul Beard with the Arthur E. Stilwell Award, and introduced the speaker. A wet, cold and challenging 2017 was officially closed and 2018 was opened with hope and excitement.
One of our exciting, successful programs that provides hope for many young people is our Intern Training Program. We are constantly working with Lamar State College, Port Arthur ISD, the Texas Workforce Commission and our members to find qualified employees to fill the many jobs available in our area.
Since the inception of the Intern Training Program we have trained 65 Port Arthur citizens. Of those 65, 48 are in the workforce/job field and employment, 5 are currently enrolled in college or technical school, and 3 are currently with us at the Chamber. We were unsuccessful in tracking the remaining 9. This interprets to an 83.3% success rate. Our latest success story is Ms. Jessica Gonzales a local Port Arthur Resident. She has been hired by Collins Engineers here in Port Arthur as an Office Administrator Assistant to Mr. Michael Koxlien.
This proves with proper technical and life skills training, coupled with the desire to learn and apply those skills, our local citizens can find work within our city.
The success of the Chamber's Intern Training Program is due to our Financial Director Joe Tant. Joe is a trained Human Relations Director that takes the task of training these interns seriously. He has designed a comprehensive training program that include these key elements:
Interviewing Skills
Human Resource Instruction
Accounting Principles,
Networking/Social Media Awareness
Overall Office Techniques
What to Include on your Resume
What to Exclude from your Resume
Top Ten Questions to be prepared to answer during a job interview
Telephone Skills
Accepted Dress Codes
Professionalism – As it applies to the workplace
Preparing to success before and after the interview
Sharpening your QuickBooks and Accounting Skills
HR 101 Development
The Greater Port Arthur Chamber is entering our 118th year with excitement. If you wish to become part of this successful economic development organization, call 409-963-1107 and ask for Paige, Raquel, Joe or Bill.