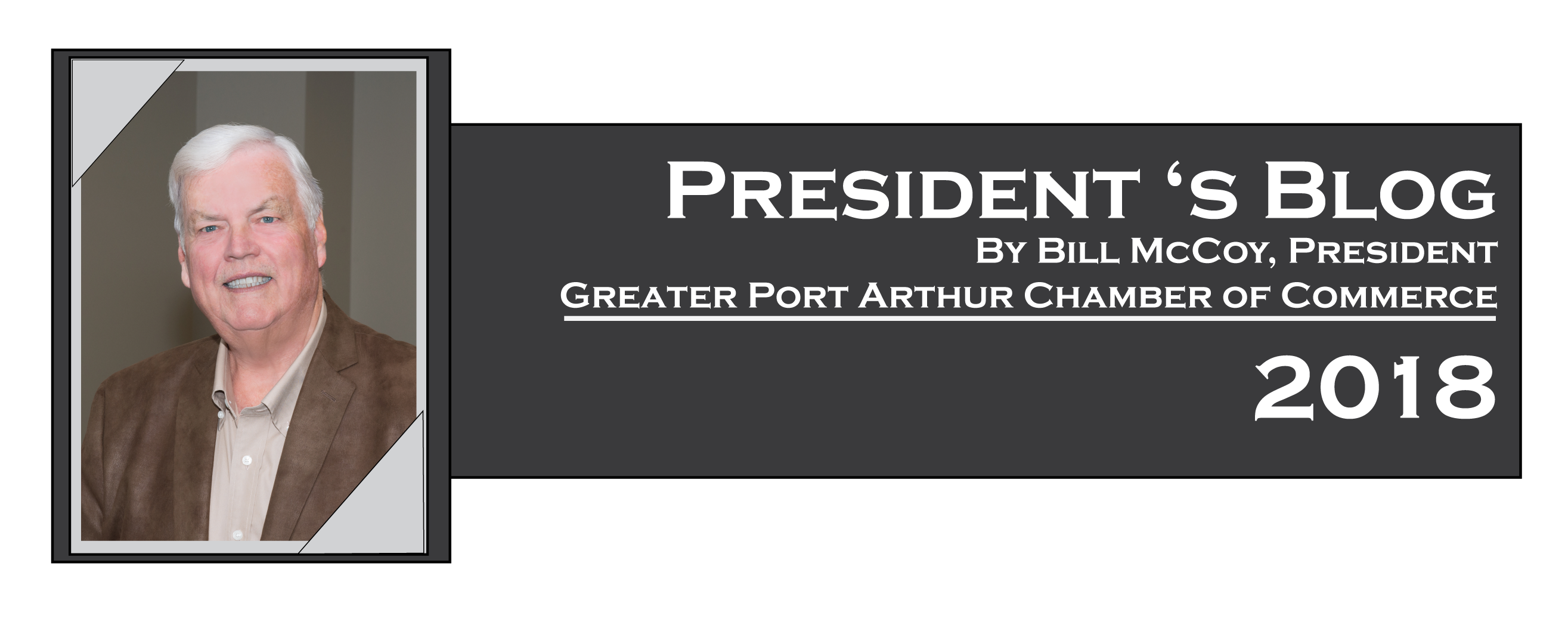 Texas is known for its leadership in attracting new businesses to the state. The Gulf Coast currently is the "Gold Star" of new industry and job creation. Most of this success is because of the refineries and oil companies in the area. The new kid on the block is the Liquid Natural Gas projects. In our area those include Chenier, Golden Pass and Port Arthur LNG (Sempra). These projects cost approximately 12 billion each and require 4 – 5 thousand construction workers each. When you couple these labor requirements with the turn arounds and existing plant expansions, the numbers are phenomenal.
Almost all states and cities, in an effort to attract new projects, offer tax incentives. Some people see this as giving tax money to companies to entice them but it's allowing the companies to keep more of their own money in lieu of giving it to the government. Still, the idea, to some politicians and citizens is a gift. And with any gift comes strings. In the case of Port Arthur, if a company signs a tax agreement, there are incentives that will lower their tax burden. These incentives are, hire Port Arthur Citizens and Buy from Certified Port Arthur Businesses.
How do you become a Certified Port Arthur Business? The city website has this requirement.
Any Port Arthur business, including, but not limited to, a Port Arthur minority and/or woman owned business enterprise (MWBE),
A Port Arthur historically underutilized business (HUB), and a Port Arthur disadvantaged business enterprise (DBE) is eligible to apply.
An eligible business must maintain its principal place of business within the boundaries of the City and have been in operation for at least six months
within the City;
Since "principal place" has been determined as their headquarters, this noble idea, that sounds good for political purposes, is not realistic in today's global market. Currently, out of all the businesses in Port Arthur, Texas, there are 28 listed on the city's website as having been certified. This program is, at least, 8 years old.
The reason for the Certified Business Program is to encourage companies to hire local people and spend their money locally. But, according to city rules, locally means, with a Certified Port Arthur Business. If an industry purchase from any other Port Arthur business, it does not count towards your contract. Since there are so few qualified businesses there is no way industry can comply with the contract.
I have an example of a company that spend hundreds of thousands of dollars, annually with a company, located in Port Arthur but gets no credit. A company that has hundreds of employees and pays thousands of dollars in property tax and sales tax does not meet the criteria of "Certified Port Arthur Business."
The chamber has asked to be allowed to work with the city to design a more realistic program that rewards companies for spending their money in the city limits of Port Arthur, to any company that pays property tax or sales tax to the city. To date we have not been asked to help.
Other incentives are based on sound ideas and do work. The chamber and the Small Business Development Center – Lamar State College, constantly encourage qualified businesses to apply for the HUB (Historically Underutilized Business Certification."
Who qualifies to be a Historically Underutilized Business?
a for-profit entity that has not exceeded the size standard prescribed by 34 TAC §20.294, and has its principal place of business in Texas, and
is at least 51 percent owned by an Asian Pacific American, Black American, Hispanic American, Native American, American woman and/or Service Disabled Veteran, who reside in Texas and actively participate in the control, operations and management of the entity's affairs.
The federal government, in an effort, to help these businesses, require certain contractors, by contract, to make every effort to award a percentage of their work to a HUB certified business. The Port, city, state, county, and many other agencies live under this regulation. It gives the HUB business an edge in any bid. Linda at the SBDC Port Arthur knows her business when it comes to helping a business complete the requirements necessary. Her services are free. The chamber encourages its members to call and ask us about this program.
In September the Chamber hosted its first SETX Industrial reverse trade show. Local industries set up booths to allow participating contractors the opportunity to make contact and obtain information about bidding on future or existing projects. There were 9 sponsoring booths and 4 industrial booths. Approximately 150 contractors attended, all giving this first attempt good reviews. I congratulate the chamber's membership and events coordinator, Paige Snyder, and her ambassador volunteers for their hard work to make this event a success. Rachel Ochoa designed a PowerPoint presentation highlighting the sponsoring and participating companies.
The Beaumont, Orange and Port Arthur Chambers continue to meet, jointly, for the purpose of setting legislative agendas for the Golden Triangle Days in Austin, scheduled for February 12, 2018. I continually encourage business to become more involved in government affairs and pay attention to the direction our state legislatures are going, regarding regulations and taxes. To date, these three chambers are working with other coastal chambers, targeting Windstorm insurance, health facilities, environmental regulations and the funding of higher education and transportation. There will be more issues popping up on our radar. If you know of other legislative issues that hurt or help business development, call the Beaumont, Orange or Port Arthur chambers and give us the information.
If you want to be a member of an organization that works to keep existing business and attract new business, call Paige Snyder at 409-963-1107 or send her an e-mail at paige@portarthurtexas.com.