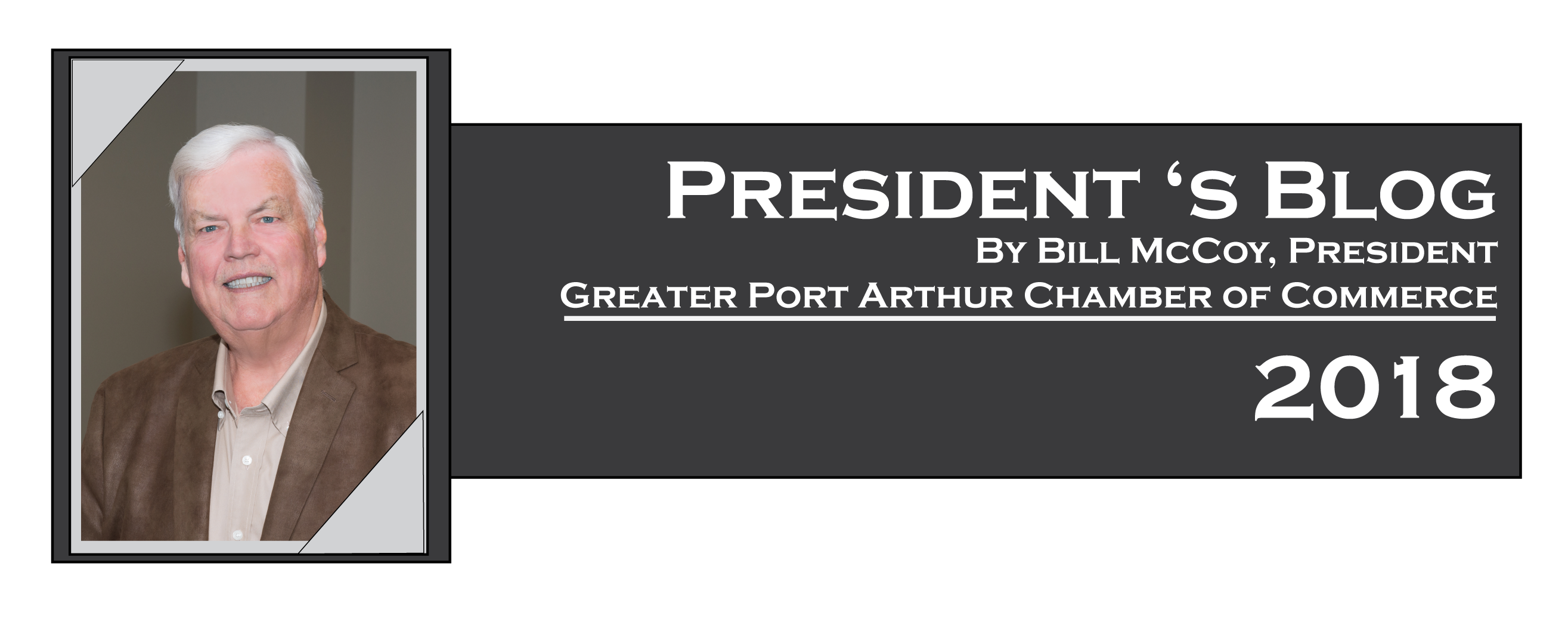 I began my chamber career in 1976, in Jasper, Texas. I moved from there to Garland, then Pasadena and to Port Arthur in 2011. In each of those towns I have met wonderful people who volunteer their time. Most, volunteer cheerfully. Some volunteer out of duty or job and every now and then, out of love. In Port Arthur, Texas that was Carlita Zummo. This little lady could light up a city block with her smile and energy. Every time I met her she would smile, hug me and ask about Nellie, my wife. She loved to sit on boards and committees. She just wanted to make a difference. She did. Carlita was part of the original Port Arthur ISD Foundation. She was a founder of the Port Arthur Education Foundation and sat on the board, attending almost every meeting and event until illness forced her to miss. I was sad, in the early part of May to learn of her death. A light went out in Port Arthur and I, the Foundation and the Chamber will miss this wonderful lady.
On May 4th the Greater Port Arthur Chamber of Commerce Hispanic Business Council hosted the first annual Golden Pass LNG Golf Tournament. Twenty-two golf teams enjoyed a day of golfing fun, including beverages and food supplied by Construction Managers of Southeast Texas, and cooked by Figueroa's Towing and Auto Parts and Architect's Studio. The Golf Committee was manned by the Hispanic Business Council. They did a great job of getting sponsors and teams and working on the day of the tournament. Plans for 2019 are already underway with changes that are expected to attract more golf teams and cooking vendors. The winners of this first tournament were STI Group.
Plans for 2019 Golden Triangle Days in Austin are underway. The date will be February 11 – 12, 2019. Hotel rooms have been blocked, meeting facility reserved, and session rooms applied for. Please watch your e-mail for sponsor forms and registration forms. The staffs of the Beaumont, Orange and Port Arthur Chambers are working with a great committee to secure entertainment and speakers for the event.
A new program the chamber is studying will be known as the Young Emerging Leaders. Their Mission Statement reads: The Greater Port Arthur Young Emerging Leaders will work to develop Port Arthur and the Golden Triangle area's future leaders by providing ambitious young emerging leaders with the opportunity to build relationships, further develop themselves as professionals and or entrepreneurs, serve the community, and engage with political, civic and business leaders. Admission to this group will be reserved for emerging leaders ages 21-40. The program will be designed to provide social and professional opportunity, connect, engage and develop our community's current network of young leaders and entice others to relocate to our community. To provide and opportunity for young leaders to expand their social and professional network through unique events and workshops. It will be an opportunity to learn how to become a leader and to use social communications and events to expand your connections and opportunities. Once this program is fully designed there will be an effort to notify, enroll and involve all young emerging leaders that wish to participate.
Your Greater Port Arthur Chamber of Commerce as always is moving forward.