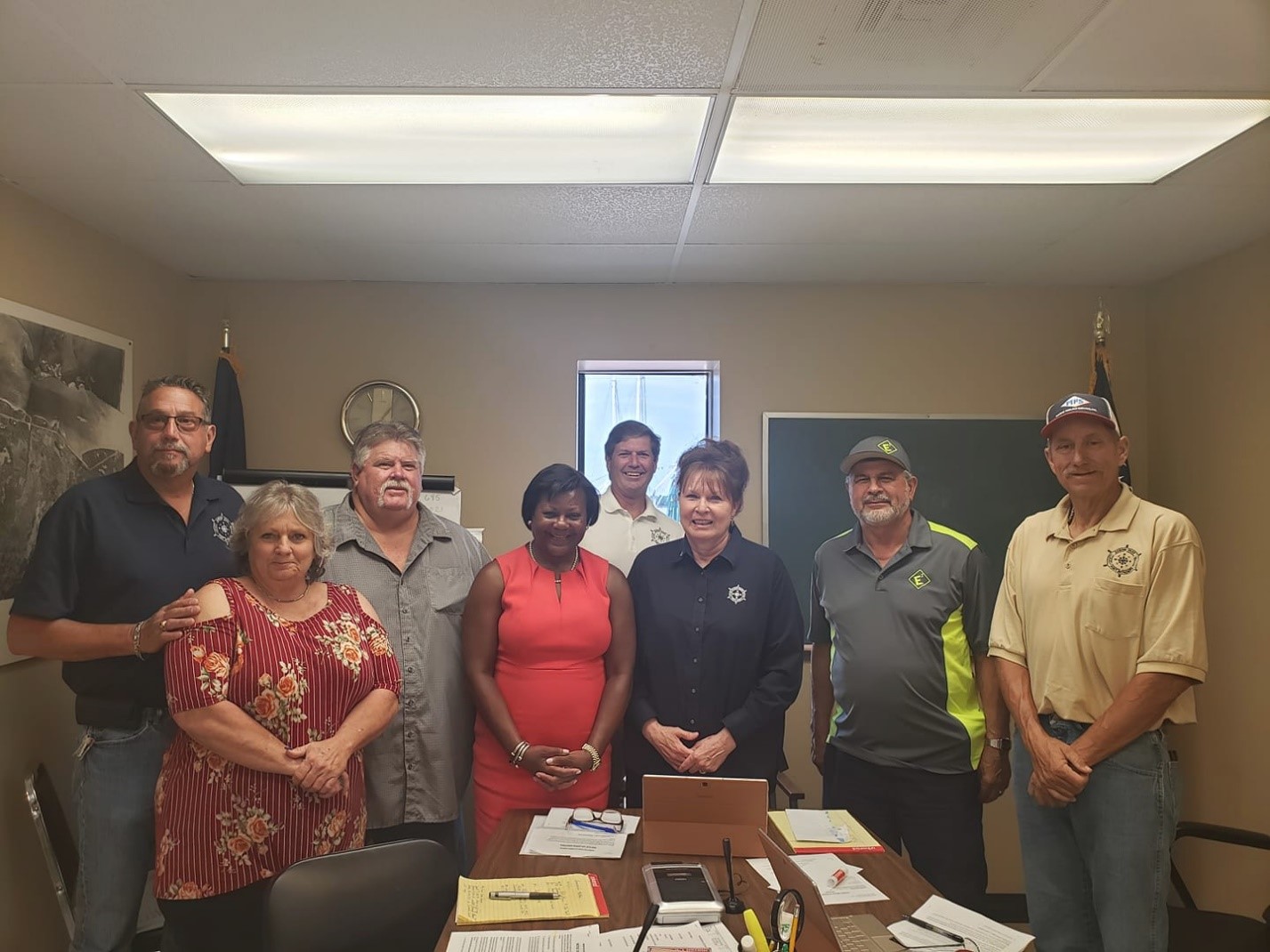 Left to right: Jerry Heid, Deborah Jennings, Lin Berg, Pat Avery, Mic Cowart, Suzette Chumley, Bob Sexton, Ricky Keltz
Since the creation of the Sabine Pass Port Authority (SPPA) in 1973, the Port has weathered many storms from mother nature as well from the economic ups and downs of the shrimping and oil and gas industries. It has taken a long time for the Port to be in a significant position for growth but that time has arrived.
The Port has diversified its operations into two distinct business functions, one, a shallow draft port for commercial shrimping vessels, barges and offshore supply vessels and a marina for recreational boats.
On the port side of the operations SPPA is presently working to secure permits to construct several new mooring facilities that will enable the port to add additional shrimping vessels to support growth for that local industry but the greatest opportunity is to expand dock space for barges and supply vessels.
It is expected there will be a long-term demand for barges to support the construction projects in the Sabine Pass / Port Arthur area as well as possibly utilizing barges to move cargo containers and or other commodities. Also, as the deepening and widening of the Sabine Neches waterway and the offshore ship anchorage projects are completed, more ships will be needed to be tendered to as they await the call to travel to the inland ports in our area. These service supply vessels will need docks close to where the ships will be anchored. The Sabine Pass Port Authority is aggressively taking steps with new projects that will provide a safe, strategically located harbor to support industry and our Big Port Brothers up stream.
The second business function of the SPPA is the marina with many new enhancements. The marina is our fastest growing business and is now at over 70% full to capacity with a variety of recreational boats. The marina offers a full-service site including, fuel, boat lifts, covered stalls, bait / concession center and parking sites at or near the boats. SPPA offers full time staff on site and is well known for excellent customer service.
If you have never visited the Sabine Pass Port Authority, give Port Manager Mic Cowart a call at 409-971-2411 and schedule some time to go see the best little port on the Gulf Coast.